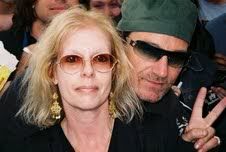 "FOR BONO: VISION OVER VISIBILITY"
Hello, hello! This is the first entry of many that I will write for this column in "Edge's Blog" devoted to all things U2 - their music, their spirituality and their social activism. It is entitled "FOR BONO: VISION OVER VISIBILITY" as I will endeavor to get to the heart of the subjects that I'll write about. I'll attempt to draw out into the light those aspects of U2 and of ourselves that are often invisible to our daily lives. Quite a lofty goal to aim for, I know, but if you don't aim high in life, how will you ever achieve your goals?
Let's start with an introduction: I have been a U2 follower for nearly thirty years. Being Bono's age, I have grown up parallel to U2, developing my own sense of spirituality and social activism very similarly to theirs. It has been a joyous journey so far with this band and I look forward to many more years of listening to and learning from their music.
Still, I am my own person and revolt against the idea of "fan worship". Having been able to meet several members of the band and having had the chance to spend some time in meetings talking with Bono, I have been able to get a much fuller appreciation of U2 as four individuals and less as one conglomerate whole....and I like it better that way.
I am also a social activist in my own right, starting out with African "causes" as far back as June 1976 - three months before Larry ever put up that infamous note on the Mt. Temple bulletin board for bandmates. So while I follow U2, I retain my own identity which is what I think they really like and respect in their fanbase.
While I love each member of U2 for their essential contributions to the band, Bono always has and always will be my favorite. From the first time that I saw him perform on the Tom Synder show in the USA in 1981, I knew that he was someone special. The optimism in his eyes, the hope in his words and the humility in the way that he lived his life offstage hooked me at an early age and has never let me go....And I hope it never will.
So this is me in several paragraphs. Not a complete introduction but enough for us to get started. I hope that you will feel free to leave your comments after each entry as I truly value what you have to say. Try to keep it positive, though. There's never a reason to be ugly with each other.
I'll be back in two weeks with a remembrance of Dr. Martin Luther King Jr. and of the wonderful day that Bono spent with Coretta Scott King at the King Center in Atlanta GA six years ago ....and I was there to report on it all. Until then, please enjoy this classic U2 video which gives us four essential words to live a peaceful and prosperous life by "I Will Begin Again". I will follow.
Living Positively, debbie :) - worldview_14@yahoo.com